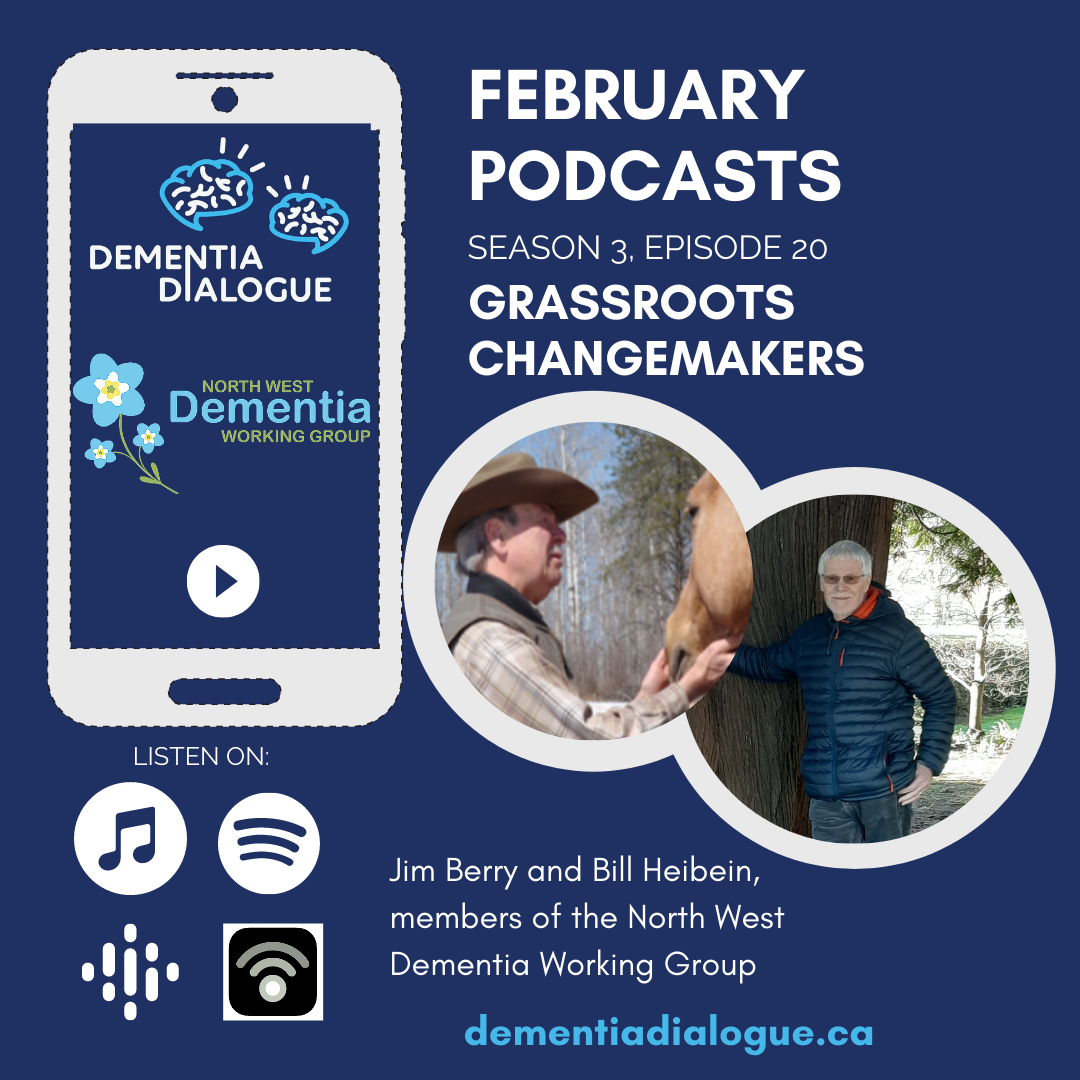 Jim Berry and Bill Heibein are members of the North West Dementia Working Group (the Group) that was formed in 2014 by people with dementia and care partners to work to promote the change that they want to see happen to improve the lives of people living with dementia. The group is small, about 20, but mighty in its ambitions and accomplishments.
   Jim and Bill share some of their motivations for belonging to the group and describe some of their accomplishments. Two of the ones of which they are most proud is a conference entitled Living Well with Dementia convened in Thunder Bay in 20xx and repeated in Dryden. As well, the group has started the Dementia Café in Thunder Bay that is entering its third year. Both projects have attracted volunteers beyond the core group of 20. The Café and the Zoom.
  Jim and Bill also discuss an action research project that they are involved with, called Building Capacity. They have partnered with a seniors agency network in Vancouver along with researchers at Lakehead University and UBC. Bill and Jim describe their approach as "bottom-up" and the Vancouver group as more "top-down". The idea is to see how the bottom-up group can influence community organizations to better serve people with dementia and how the top-down group can learn to involve people with dementia in program development.
  Jim and Bill both feel groups like theirs not only offer opportunities for people to make a difference but also to benefit personally by becoming involved.
   Dementia Cafe can be contacted at:  dementia.cafe@lakeheadu.ca
The Dementia Cafe Facebook page is: https://www.facebook.com/Dementia-Cafe-A-Place-to-Belong-2611577718917565/
The NWDWG Facebook page is : https://www.facebook.com/North-West-Dementia-Working-Group-109779593941900/ and their Email is  nwdementiaworkinggroup@gmail.com
For more information about the Building Capacity project  https://crpd.ubc.ca/building-capacity-project/
Building Capacity Workshop Report - 2020  https://afa49033-9fa2-44a2-850f-d2a38a8ac3e2.filesusr.com/ugd/f7b74e_4fe6378f211c400fb2f36713f6576277.pdf